About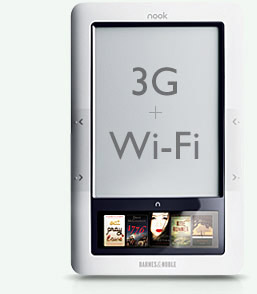 "nook" the the brand name for Barnes & Noble's e-Reader platforms and ebook reading device. If you've heard of the Amazon Kindle or used "Stanza" to read books on your iPhone the nook is the B&N version of those applications and devices.
eBook readers typically have a paper-like screen and display electronic books (ebooks). The nook generated a lot of interest because it was the first eBook Reader to include a touch screen for navigation. Another thing special about the nook is the software that controls it, "Android". Android is a computing platform created by Google for mobile devices and has gained a lot of popularity with device manufacturers. It's possible in addition to being a great e-book reader, mp3 player, the nook may also become a general device for note taking and other purposes if the device is opened up to installing additional software on it. The newest nook devices nookColor and nookTablet are more like an iPad than traditional eBook reader (eInk, long battery life). The orginal nook (pictured to the left) is no longer made - it has been replaced by the nook "Simple Touch" which has a far improved screen and battery life - with a single eInk touchscreen!
Like the Kindle, the nook's E Ink® display is more like a book than a computer screen. There is no glare or backlight, the text size is adjustable - you can read it comfortably for hours (if you can read for hours!). You can get sample eBooks for free and most best-sellers are discounted about $10. Like the 3G Kindle, the nook uses AT&T's 3G Wireless Network. Unlike the Kindle all the nook devices have Wi-Fi and the ability to add a memory card.
The nook makes it easy to bookmark, highlight, and take notes. Words can be looked up while you read using the built-in dictionary. When you are away from the nook you can keep reading with your iPhone or BlackBerry (using Barnes & Noble's free nook software).
One major feature with the nook is the ability to share eBooks with your friends or family. Most eBooks can be lent for up to 14 days at a time.
With an eBook reader the process to get books on the reader is very important. Amazon has made a great selection of books online at great prices. Currently the prices and selection of books on the Barnes & Noble site is still behind (even two years after it's introduction). One smart move B&N made was to make the entire selection of "Google Books" available to the nook. In addition, B&N chose a device that was able to use the "ePub" book format. This means you should be able to use books from a variety of online bookstores (except Amazon) and even load "rented" books from your local library.
The nook device is available in four versions, nook wi-fi / 3G (classic), nookColor, nook Tablet, and nook Simple Touch. There is a nook "reader app" for most mobile phone and tablet platforms.
nookTalk.net
nookTalk was created to let people find out more information about the Barnes and Noble nook device and software applications - and exchange ideas by commenting on stories, forums, and joining together on Twitter & Facebook. We think nook will be a game changer for eReaders for a variety of reasons - and part of that will include a strong user community.
There are other nook community sites and Barnes and Noble is hosting their own social software, all great news for nook owners!
Check out our top menu for FAQ, Forums, and more. We are gathering the most common questions on the internet about the nook in an effort to have the premier nook FAQ!
Click here to register on nookTalk.net!